Anthony Davis' Jump Shot: An Exploration
Anthony Davis' perimeter game is a rare area where he can stand to see notable improvement. How much he does so could directly impact the Lakers' title chances.
Welcome to issue #10 of Throwdowns. 
First off, I hope you all had a pleasant Father's Day. A very special thank you to my dad and all those who have been around since day one.
For transparency sake, I truthfully was not confident this newsletter would ever creep into double digits, or if there would be enough interest to continue this venture. But I am happy to have been proven wrong.
With that said, let's move on to this one. It's about Anthony Davis, a big human being shooting a small basketball.
---
Last week marked the one year anniversary of the Lakers/Pelicans trade that landed Anthony Davis in the balmy locale he desired. Although it is difficult and usually unwise to hand out labels of winners or losers with only 63 games worth of results, the blockbuster deal seemingly is working out nicely for both squads thus far.
New Orleans has a plethora of young, exciting talent coupled with enough draft capital to keep them competitive for years to come. Also, ZION.
And in his first season with Los Angeles, Davis has passed his starring role test with flying colors. He displayed every bit of the magnitude of his talent within a bigger spotlight whilst also proving able to play beside LeBron James swimmingly.
Despite the fact that the rest of this season and his future with the team post free-agency remains up in the air, Davis has firmly shown that he is indeed the type of superstar front offices lie away thinking about at night.
His oozing talent and skills do not however make him exempt from having room for improvement. A scary proposition for the rest of the league, but a realistic one given the fluctuating results on his jump shots. Fortunately, it is an area he seems well aware needs refining.
---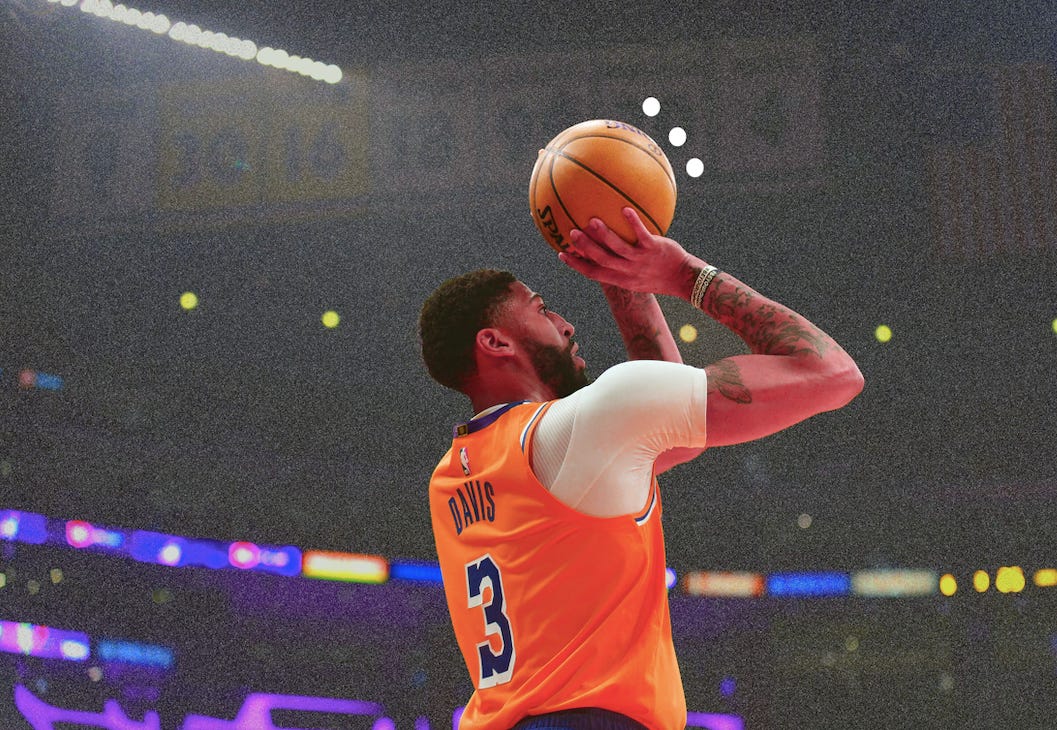 Photo by: Gary A. Vasquez - USA TODAY Sports | Throwdowns Illustration
---
Prior to this season, Davis worked closely with both Lakers' shooting coach Mike Penberthy and private shooting guru Chris Matthews (aka Lethal Shooter) in an aim to bolster his perimeter game.
Setting individual goals such as improving his overall 3-point% and wanting to convert his free throws at a 85% clip, Davis took strides in both this year. But, when looking closer at his overall numbers, it becomes evident that there is still work that needs to be done.
Before the stoppage in play, Davis had already hoisted up 520 jump shots this season. The number, which includes both midrange and 3-point chances, aptly illustrates how many of his scoring opportunities actually come via the jump shot.
If one were to envision what a vintage Davis bucket looks like, it typically would resemble a scene of him finishing at the rim courtesy of a James' dish. In reality however, 58% of his shot profile this year consisted of midrange and 3-point hoists.
---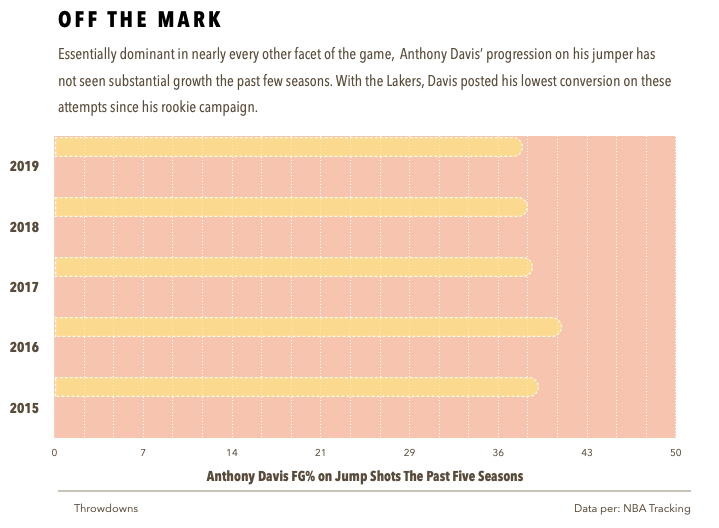 ---
As the chart above signifies, Davis has never really been a marksman in terms of converting his jumpers at a high clip. In fact, his 37.7% conversation rate this year is his lowest since his rookie season.
Often lumped together with the other ever growing herd of "Unicorns" of the league, his shooting to this point has been more theoretical than actual.
In terms of volume, Davis definitely is not shy in terms of rising up over his defenders. According to Cleaning the Glass, the former number-one-overall pick has ranked in the 70th percentile or higher when it comes midrange frequency among bigs in seven of his first eight seasons.
Efficiency wise however, Davis has only been exactly average (50th percentile) among his tall peers the past three seasons. And when it comes to his 3-point% Davis has yet to finish a season above the "average" threshold.
In attempting to diagnose the "why" when it comes to Davis' misses, I solicited the help of Dr. Rajpal Brar. A practicing Doctor of Physical Therapy, and a tremendous Sports Scientist.
Dr. Brar is also an avid Lakers' fan, which is worth pointing out given the subject at hand. Here is what he observed after watching Davis' film closely this year:
The key thing I noticed is that he's much more in rhythm and comfortable when he primes his shooting motion with a movement to the left (either a 1-2 step, or a jump stop. This is called "neuromuscular priming" same concept as a free-throw routine).

This results in increased coordination (fluidity) and balance (feet come down together in sync and not pointed as much to the side which indicates less mid-air rotation). That may be why he loves that left corner 3, he's typically receiving the ball from the right (likely his preferred shooting pocket) and is able to get in his rhythmic weight shift to the left.
In both the film, and the numbers, what Dr. Brar states astutely matches up. Let's take a look at two different types of catch and shoot attempts for Davis as visual examples.
In this clip, the drift on James pass (either an intentional lead or possibly just errant) actually allows Davis to naturally get into the 1-2 step/jump stop gather to his left he routinely has shown comfort in. Also, the "neuromuscular priming" concept Dr. Brar explained.
This is an instance where the "eye-test" and the data are synchronous. According to the NBA's tracking data, Davis is shooting a blistering 55.6% from the left corner this season. And on his attempts from the right corner, a dire 16.7%
In this play, Davis once again is put in a catch and shoot situation. The pass is more aligned, he catches the ball on his right hip and transitions into his shooting motion on the left side.
While everything functionally looks sound, there is not a direct enough gather or "priming" to the left for Davis to create a rhythm. The result is an ugly miss to the left of the rim. A swiftly approaching Giannis Antetokounmpo obviously does not help matters.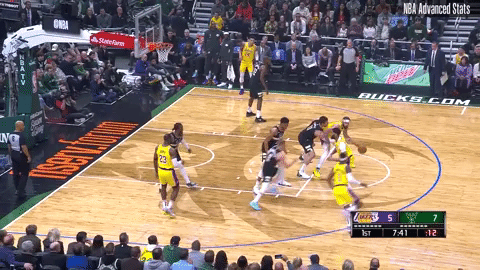 This level of muscle memory and coordination are difficult to fully master, and one has to imagine that an offseason acclimating himself with different shooting coaches — both from a new organization and private — may have played a role in his low percentages.
For the Lakers, a lot may ultimately ride on what state Davis' jumper will be in if this year's playoffs are allowed to take place. Because if the team's previous matchups with the other budding championship contenders this season is any indication, his numbers will have to drastically improve for them to advance.
Although a substantially small sample, it is worth pointing out the common trend of Davis' struggles against the likes of the Clippers and Bucks.
vs. Los Angeles:

*13-34 (38.2%) on jump shots.

*2-12 from three (only one corner attempt) 11 classified as being either "wide- open" or "open."

*13-16 in the restricted area (81.2%)

vs. Milwaukee:

*5-24 (20.8%) on jump shots.

*0-10 from three (only 1 corner) nine classified as being either "wide open" or "open."

*12-22 in restricted area (54.5%)

*

Per: NBA Tracking Data
While the numbers themselves are certainly not up to par, the film suggests this is not completely Davis' fault. Several of his 3-point attempts against these teams in particular came at the end of the shot clock, or a broken play.
Of course, this could conversely reaffirm both of these teams are sound defensively and will not let Davis comfortably get into his rhythm/shooting motion without disruption.
Whichever the reason for his struggles against the upper echelon teams from the perimeter or his overall nagging shooting ailments, Davis has still proven able to considerably impact a game.
If you are a Lakers' fan you should take solace that the interior numbers, defense and his absurd physical gifts are all already in concert with one and other. The shooting just needs to catch up enough to make it all sing.
And if you are a fan of any other team, you are praying nothing of the sort ever comes to fruition.
---
---
This has been Throwdowns. If you enjoyed this, or any other post in the archive, please feel free to share it on social media or with your friends and family. It is greatly appreciated.
If you have any questions, concerns, feedback or want to send me recent work for consideration in future "recommended reading" installments, feel free to email me: Alexm.regla@gmail.com. As always, thank you.